We spent a lovely afternoon at Luton Salvation Army with the members of the Home League.
In the hot weather we are enjoying at the moment, it's important to remember to stay hydrated, but did you know how much sugar is in your favourite fizzy drink? We made a quick and easy fruity drink which was not only delicious but totally sugar free! Why not try it for yourself?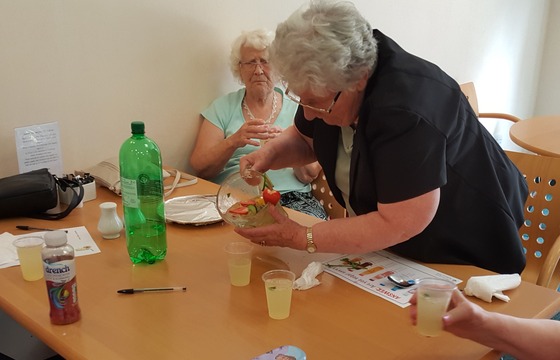 Jamie's St Clements Drink
Give this super simple and really delicious drink a try - without all the added sugar and junk you get in a shop-bought fizzy drink, it's a treat without all the nasties.
Ingredients
5 to 6 sprigs of fresh mint
1 lemon
2 oranges
500ml bottle of sparkling water
1. Fill a large jug halfway up with ice.
2. Scrunch up the mint sprigs with your hands, then add them to the jug.
3. On a chopping board, cut the lemon and oranges in half, then squeeze the juice into the jug, using your fingers to catch any pips.
4. Add the orange halves to the jug, then top up with the sparkling water and stir with a wooden spoon.